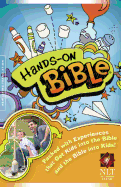 Jesus taught with hands-on lessons and illustrations. The NLT "Hands-On Bible" uses the same experience-based learning to communicate God's Word in an active, understandable way. This new edition features updated tip-ins, a more portable size for kids, and online parenting helps.
The Hands-On Bible is loaded with activities that parents and kids can do together. Experiencing the Bible in engaging ways makes scripture relevant and memorable.
Features:
The clear New Living Translation to help children understand God's Word.

Plus, MyHandsOnBible.com gives parents free bonus activities, devotions, music, and more.
The clear New Living Translation is understandable and brings the Bible to life.

Hands-On Bible Experiences invite kids to "do" the Bible with science experiments, crafts, snacks, journals--the ways kids learn best!

52 Key Verse Activities (that's one a week for a whole year!) help kids learn, understand, and live important Bible truths.

Bible Book Introductions make kids want to read "every" book of the Bible by using humor and hilarious graphics.

Full-color Bible Bonanza Experiences introduce kids to the biggest and best Bible stories.

Fun facts help kids see the Bible as true and amazing.

Bible Hero Biographies talk straight to kids, making the characters come alive.

MyHandsOnBible.com features family devotions, music, a Bible reading plan, and more.

Tons of other features like the ""Where to Turn When I'm . . ."" index, kid-friendly Q&A,

Dictionary/concordance, maps, and charts reinforce truths and add to the ongoing learning fun.
EAN:           9781414337692
ISBN:          1414337698
Publisher:     Tyndale House Publishers
Author:        Tyndale
Binding:       Paper
Dimensions:    3.56 x 21.84 x 14.22 cms, 0.84 kgs, 1344 pages
Pub Date:      July 01, 2010
Age Group:     06 to 12