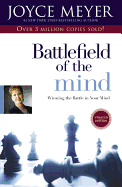 In Battlefield of the Mind, Joyce Meyer guides you through an honest self-appraisal by sharing the trials, tragedies and ultimate victories of her own marriage, family and ministry---including the truth she learned about what she was thinking and feeling every step of the way.
Win the battle of the mind
In celebration of selling 3 million copies, FaithWords published a special updated edition of
BATTLEFIELD OF THE MIND.
Worry, doubt, confusion, depression, anger and feelings of condemnation: all these are attacks on the mind. If readers suffer from negative thoughts, they can take heart! Joyce Meyer has helped millions win these all-important battles. In her most popular bestseller ever, the beloved author and minister shows readers how to change their lives by changing their minds.
She teaches how to deal with thousands of thoughts that people think every day and how to focus the mind the way God thinks. And she shares the trials, tragedies, and ultimate victories from her own marriage, family, and ministry that led her to wondrous, life-transforming truth--and reveals her thoughts and feelings every step of the way.
This special updated edition includes an additional introduction and updated content throughout the book.
Contributor Bio: Meyer, Joyce
Joyce Meyer is one of the world's leading practical Bible teachers. A #1 New York Times bestselling author, she has written more than ninety inspirational books. Joyce's Enjoying Everyday Life radio and television programs are broadcast around the world, and she travels extensively conducting conferences. Joyce and her husband, Dave, have four children and ten grandchildren and make their home in St. Louis, Missouri.
This product ships internationally in 10 - 14 days. Shipping fee included
EAN:           9780446691093
ISBN:          0446691097
Publisher      Faithwords
Author:        Joyce Meyer
Physical size: 2.29 x 22.35 x 14.73 cm, 0.32 kg, 288 pages
Binding:       Paperback
Pub Date:      October 01, 2002