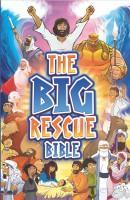 This exciting Bible features the full text of the easy-to-read Contemporary English Version, plus fabulous colour cartoon illustrations of 20 stories to stimulate the imaginations of young readers. It's loaded with helps that make Scripture fun and accessible for ages 6-10.
So! You picked up the BIG Rescue Bible. You are in for the adventure of your life! The BIG Rescue Bible is the best story ever told, and it's all in this book. If you thought God hung out in the sky doing nothing...think again! Read the BIG Rescue Bible and find out how God saves people and a planet that can't save themselves!
This new Children's edition Bible, using the text of The Contemporary English Version, features lively Australian designed illustrations to compliment the easiest Bible translation available.
Features:
Guess What's in the BIG Rescue?

Book introductions

20 pages with full-page, full-colour illustrations

Easy-to-read single columns

Mini dictionary
ISBN-13:       9780647519110
ISBN-10:       0647519119
Publisher:     Bible Society Australia
Dimensions:    13.5 x 20.5 cm, 1642 pages
Format:        Hardcover
Age group:     6 - 10
Publish date:  Aug 2014