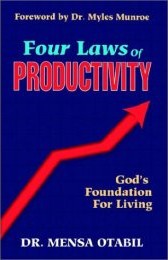 God revealed His purpose for creating man in Genesis 1:28 and commanded man to do four things:
"And God blessed them, and God said unto them to:
1) Be fruitful,
2) Multiply,
3) Replenish the earth,
4) Subdue it; and have dominion....:"
In the past, people read that and thought it only meant, "Have all the children you possibly can." The
Four Laws of Productivity
are not confined to man's reproduction. They are the foundation of all productivity. They are the keys to fulfilling God's purpose and plan for each of us.
Contributor Bio: Otabil, Mensa
Otabil pastors the 6,000 member International Central Gospel Church in Accra, Ghana, Africa.
This product ships internatinally in 10 - 14 days. Shipping fee included.
ISBN:          9781562294052
ISBN-10:       1562294059
Publisher:     Pneuma Life Pub
Author:        Dr. Mensa Otabil
Format:        Paperback
Physical Size: 8.50 x 0.5 x 5.5 inches