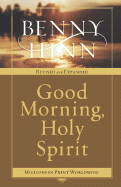 Now, in this revised and updated edition, Pastor Hinn shares the same insights and truths that God has taught him through the years, as well as the impact they have had on those around him.

One cold winter night in Toronto, the Holy Spirit entered Benny Hinn's life in such a dramatic way that he was changed forever. The same thing can happen to you. Join the millions of others who have read "Good Morning Holy Spirit" and discover if you are ready to meet the Holy Spirit intimately and personally, willing to listen to His voice, and prepared to know Him as a person.
In this revised and expanded edition of "Good Morning, Holy Spirit," Benny Hinn shares the insights and the truths that God has taught him through the years. "Good Morning, Holy Spirit" provides the principles needed to gain a better understanding of the Godhead while you discover
how to recognize the voice of the Spirit
seven steps to a more effective prayer life
the source and purpose of God's anointing
freedom from fear of the "unpardonable" sin
God's master plan for you
Contributor Bio: Hinn, Benny
Benny Hinn is the founder of the World Outreach Church in Orlando, Florida and the World Healing Center in Dallas, Texas. His daily television program, "This is Your Day"!, airs internationally, and millions attend his massive crusades each year held in every nation on earth. He has written several bestselling books, including "Good Morning, Holy Spirit" (over 1 million copies sold).
Shipping fee included. Ships in 7 - 14 days. Ships internationally.
EAN:           9780785261261
ISBN:          0785261265
Publisher:     Thomas Nelson Publishers
Dimensions:    1.27 x 21.59 x 13.97 cm, 0.29 kg
Page count:    194
Binding:       Paperback
Pub Date:      March 04, 2004
Author:        Benny Hinn