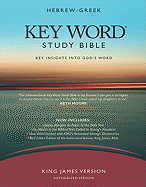 Dr. Zodhiates's greatest contribution to Bible students everywhere is the Hebrew-Greek Key Word Study Bible, which takes the reader to the source of the Hebrew and Greek words and Greek grammar. In addition, there are extensive exegetical footnotes explaining the most difficult passages of the Old and New Testaments

The Hebrew-Greek Key Word Study Bible combines essential tools for Hebrew and Greek with translations that accurately and clearly expose the Bible text. An easy-to-use style plus the benefits of the Strong's Dictionary (KJV/NASB) or Goodrick/Kohlenberger Dictionary (NIV) numbering system makes this study Bible one for every student of God's Word, no matter what age.

Ships free internationally.
EAN:           9780899577456
ISBN:          0899577458
Publisher:     AMG Publishers
Language:      English
Dimensions:    4.85 x 23.83 x 17.02 cm, 1.54 kg
Binding:       Hard Cover
Page count:    2304 pages
Pub Date:      June 01, 2008
Version:       KJV