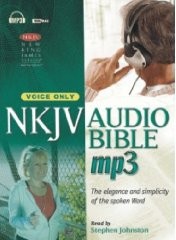 Cutting-edge recording technology delivers a crystal-clear reading of God's Word that is instantly accessible via MP3 device, computer, or MP3-enabled CD or DVD player, and packaged in a take-anywhere protective case. (Audio)
The elegance and simplicity of the spoken Word--Voice Only
Cutting-edge recording technology delivers a crystal-clear reading of God's Word. Enjoy Stephen Johnston's powerful narration of the New King James Version - instantly accessible via MP3 device, computer, or MP3-enabled CD or DVD player and packaged in a take-anywhere protective case. The compact MP3 format makes it simple to take God's Word with you everywhere you go.

The CDs include extra features for PC or Mac: an east-to-navigate interface gives access to a variety of Bible listening plans (which can be loaded as play lists).


This products ships internationally in 7 - 14 days. Shipping fee included.
EAN:           9781598562781
ISBN:          1598562789
Dimensions:    2.74 x 19.35 x 17.35 cm, 0.18kg
Publisher:     Hendrickson Publishers
Format:        MP3 CD
Category:      Audiobooks, Audio bibles
Pub Date:      September 01, 2008