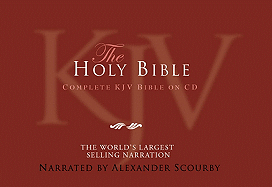 The world's most popular KJV Audio Bible read by the famous Alexander Scourby. 60 high quality compact discs manufactured using state-of-the-art replicating equipment. Includes a free bonus DVD, The Indestructible Book, & comes in a handy black CD case.
The world's most popular KJV bible on CD.
Alexander Scourby, an accomplished Broadway Shakespearean actor as well as a radio and movie actor, narrates the complete King James Bible here on these 60 CDs. This project, one of Scourby's greatest lifelong achievements, took more than a year to complete. CDs come packaged in an attractive padded case with zipper enclosure.
Contributor Bio: Scourby, Alexander
Alexander Scourbys dramatic and moving narration of the Bible has touched and inspired the hearts of millions. Best known for his magnificent voice, Scourby was a noted Broadway Shakespearean actor, a radio and movie actor, and narrator of classic TV documentaries. One of his greatest achievements, however, was narrating the Biblea recording project that took over one year to complete.


Free international shipping. Ships in 10 - 14 days.
EAN:           9780883688267
ISBN:          0883688263
Publisher:     Whitaker House
Dimensions:    6.78 x 27.43 x 17.09 cm, 1.40 kg
Format:        Compact Disc (CD)
Pub Date:      May 01, 2004