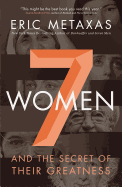 Publisher Marketing:
In his eagerly anticipated follow-up to the enormously successful Seven Men, New York Times best-selling author Eric Metaxas gives us seven captivating portraits of some of history s greatest women, each of whom changed the course of history by following God s call upon their lives as women.
Each of the world-changing figures who stride across these pages Joan of Arc, Susanna Wesley, Hannah More, Maria Skobtsova, Corrie ten Boom, Mother Teresa, and Rosa Parks is an exemplary model of true womanhood. Teenaged Joan of Arc followed God s call and liberated her country, dying a heroic martyr s death. Susanna Wesley had nineteen children and gave the world its most significant evangelist and its greatest hymn-writer, her sons John and Charles. Corrie ten Boom, arrested for hiding Dutch Jews from the Nazis, survived the horrors of a concentration camp to astonish the world by forgiving her tormentors. And Rosa Parks deep sense of justice and unshakeable dignity and faith helped launch the twentieth-century s greatest social movement.
Writing in his trademark conversational and engaging style, Eric Metaxas reveals howthe other extraordinary women in this book achieved their greatness, inspiring readers to lives shaped by the truth of the gospel."
Contributor Bio: Metaxas, Eric
Eric Metaxas is the author of the New York Times bestseller Amazing Grace, Everything You Always Wanted to Know About God (But Were Afraid to Ask), Everything Else You Always Wanted to Know About God, and thirty children s books. He is founder and host of Socrates in the City in New York City, where he lives with his wife and daughter. His writing has appeared in the New York Times, the Atlantic, Washington Post, Books & Culture, Christianity Today, Marks Hill Review, and Fist Things. He has written for VeggieTales and Rabbit Ears Productions, earning three Grammy nominations for Best Children s Recording.
Free international shipping. Ships in 7 - 14 days.
EAN:           9780718021832
ISBN:          0718021835
Publisher:     Thomas Nelson
Dimensions:    2.29 cms H x 23.62 cms L x 15.75 cms W (0.36 kgs) 256 pages
Binding:       Hard Cover
Pub Date:      September 08, 2015
Author:        Metaxas, Eric