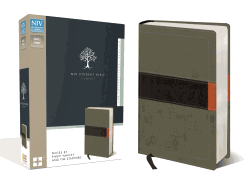 Perennial bestseller! Perfect for high school or college students with rich content from award-winning authors Philip Yancey and Tim Stafford! 3-track reading system helps overcome common barriers to Bible study to make it a daily habit. Features are especially designed to help students understand the Bible and live out its life-changing truths!
With over six million sold, the classic, bestselling NIV Student Bible has been redesigned and updated, ready to light a spark in the hearts of today's students. The NIV Student Bible is specifically designed to help readers understand and navigate the Bible text with tools like the Subject Guide, Highlights and Insights, and 3-Track reading plan and the compact size edition makes it easy to carry these tools with you anywhere. In the Guided Tour, author Philip Yancey takes readers on a journey through the Bible, highlighting important passages that show how the Bible is connected from Genesis all the way to Revelation.
This Bible also offers supplemental information on topics such as Ambition, Assurance of salvation, Comfort, Conversion, Eternal life, Faith, Family, Forgiveness, Guilt, Heaven, Holy Spirit, Joy, Love, Mercy, Money, Peace, Power, Repentance, Salvation, Sex, Success, Temptation, Unity, Will of God, Work, and more.
Complete text of the accurate, readable, and clear New International Version (NIV)
Three-track reading plan
Book introductions and overviews
Insights provide background information on key passages
Guided Tour through the Bible
Highlights that explain confusing verses and offer interesting facts
Personal profiles on 100 People You Should Know
Indexes, glossaries, and study aids
Subject guide
Eight pages of maps with index
Ribbon marker
Leathersoft cover lays flat when open
8.1-point type size
EAN:           9780310437161
ISBN:          0310437164
Publisher:     Zondervan
Author:        Yancey, Philip
Binding:       Green/Grey Imitation Leather
Dimensions:    4.04 cms H x 21.26 cms L x 14.71 cms W (0.81 kgs) 1543 pages
Pub Date:      08/06/2011