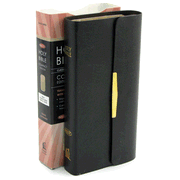 Traveling with God's Word has never been so effortless. The unique size makes this Bible portable enough to fit in a purse, suitcase, backpack, briefcase, or even a pocket. A great gift idea and perfect traveling companion for today's busy Christian, the Checkbook Bible allows you to explore and share God's Word no matter where you go.
Take the Word with you wherever you go!
Nelson's Classic Companion Bible
offers a complete New King James Version Bible in a handy size that's perfect for purse, suitcase, backpack, or briefcase. If you're a daily commuter, frequent flyer, or just hitting the road for the fun of it, this Bible can be your constant companion.
ISBN-13:       9780840785404
ISBN:          0840785402
Binding:       Bonded Leather Black, with Snap Flap
Publisher:     Nelson Bibles
Dimensions:    2.79 x 17.58 x 9.25 cm, 0.31kg, 1216 pages
Pub Date:      March 09, 1994
Font Size:     6.0 pt