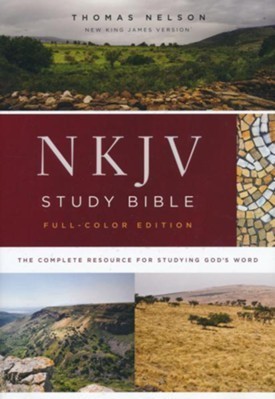 The NKJV Study Bible provides a comprehensive study system for those who desire to deeply understand God's Word in the accurate and beautiful New King James Version.
The Complete Resource for Studying God's Word
With more than 2 million copies sold, it's no secret that the NKJV Study Bible is a reliable guide for your journey into God's Word. This beautiful full-color Bible provides a complete resource for study, including thousands of notes, articles, extensive cross-references, and features contributed by top evangelical scholars. These multilayered study tools, combined with the accuracy and clarity of the New King James Version, make this Bible a perfect choice to help you understand and deeply engage with Scripture.
Over 15,000 verse-by-verse study notes
Bible times and culture notes
Word studies with Strong's numbers
Extensive cross-reference system
In-text maps and charts
Book introductions, outlines, and timelines
Full-length articles, a concordance, and color maps
Clear and readable Thomas Nelson NKJV Comfort Print®
9 point text
EAN:           9780785220626
ISBN:          0785220623
Publisher:     Thomas Nelson
Author:        Thomas Nelson
Binding:       Cloth
Dimensions:    5.59 cms H x 23.62 cms L x 17.27 cms W (1.77 kgs) 2240 pages
Pub Date:      11/20/2018