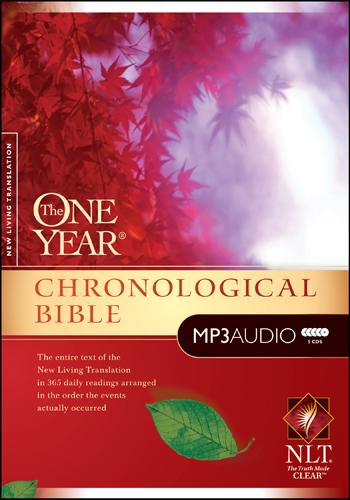 You can fit Bible reading into your already busy life by listening to the One Year Chronological Bible on MP3! In as little as 15 minutes a day, you can hear the entire Bible in one unforgettable year. This Bible audio is unique in that you can listen to the Bible text in the order that the biblical events unfolded.
You can listen to the entire Bible in one year . . . in as little 15 minutes a day! Now you can gain a better understanding of the order of biblical events and the historical context in which they unfolded. "
The One Year Chronological Audio Bible
" arranges the Bible text in the order the events actually happened.
Prophetic books are interwoven with the historical accounts they accompanied.
Psalms follow the events about which they were written.
Proverbs are placed in the time frame in which they were compiled.
The life of Christ is woven into one moving story.
And Paul's letters to the young churches in the first century are integrated into the book of Acts.
Includes 365 daily readings to help you listen through the Bible chronologically in one year.
Features the clear and accurate New Living Translation, read word for word.
Portable and perfect for commuters, exercise enthusiasts, business travelers, busy people, and those who are visually impaired.
No other through the Bible plan presents the Bible in such a user-friendly format.
The NLT One Year Chronological Bible was produced by Todd Busteed and Gap Digital, the team responsible for the original NLT audio Bible recordings.
MP3 CDs are compatible with most portable MP3 devices, or they can be listened to using a computer or MP3-compatible compact disc player.
EAN:           9781414336527
ISBN:          1414336527
Publisher:     Tyndale House
Format:        5 MP3 CDs
Dimensions:    3.61x 19.15 x 13.31 cm, 0.18kg
Pub Date:      September 01, 2010